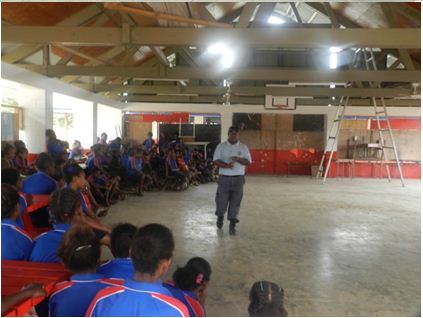 The Crime Prevention office, which involves, Cpl Rayndol Ala, Cpl Grenly Kender and Sgt Philip Shem participated in an awareness presentation to the students of Ecole de Anamburu on the 09th of August 2017 at 12: 30pm. This program convened through a request from the school principal targeting the students from year 6 to year 8.

As mentioned the presentation was based on cyber safety and substance abuse. Students in most school today are introduced to new technology in learning. Learning in this new age is connected to computers, laptops, tablets and other electronic devices. This awareness was to educate them in associated crimes that each individual can cause to another through internet.
Cpl Ala further added in his presentation that it's not always save to give their personal information or details such as full names, bank account etc. To someone whom you don't
Sees or know.
Furthermore, the officers elaborated on substance abuse as students involved themselves in consuming alcoholic liquor, cigarettes and tobacco while in schools, and even under the age of eighteen which is against the law.
To conclude this day's program, was appreciated by the students and the teachers and it captured an audience of 100 students and teachers.