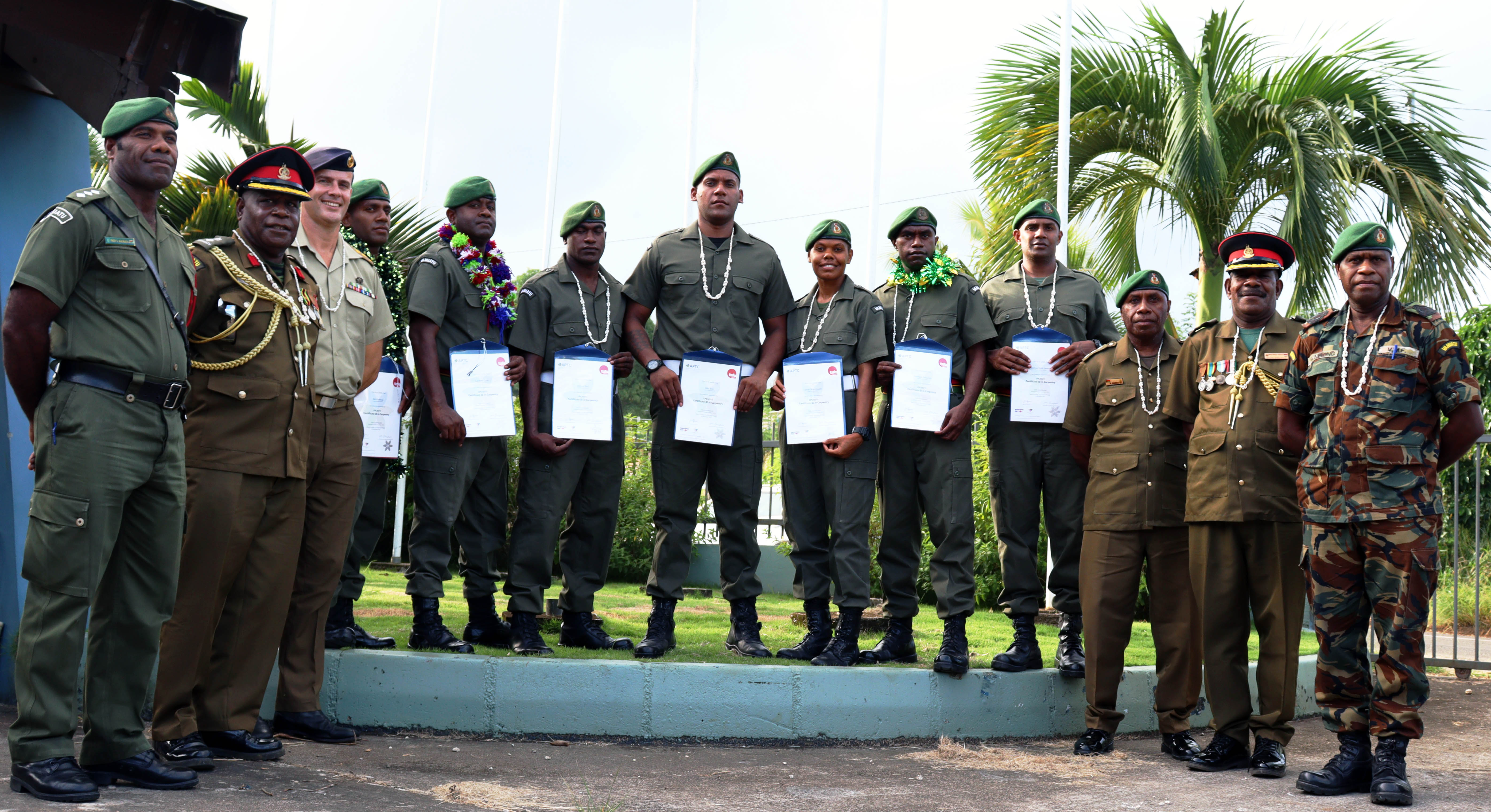 The seven VMF Engineers stepped forward with pride to receive their Certificate in Carpentry at the APTC on the 24th   February 2022.
These seven officers have graduated with a cert.lll in carpentry after spending over six months at the APTC to further their studies in carpentry.
These officers of six male and one female we sponsored by the Vanuatu Australian Defence Cooperation program in Vanuatu to continue with their studies.
The skills learned in the course will support the VMF to deliver its important humanitarian assistance and disaster relief function, including restoring essential services to communities after a disaster.
 Director General to the ministry of Internal Affairs, Mrs Cherol Ala, who is the keynote speaker of this important ceremony, encourages the graduates with helpful thoughts to strengthen them while serving the pipol of Vanuatu.
 "It is a moment of Pride, your achievement today is for the people of Vanuatu to make a change in the near future," Mrs Ala said 
 The Acting Commander VMF, Karlshem Bongran, and his senior officers to show their capability that VMF is ready to utilise this officers to serve our nation witnessed the graduation ceremony.
 " I am grateful for the continuous support  that the Defence Corporation Program in Vanuatu is continually supporting my officers in sponsoring them to further their studies to gain more knowledge  to serve the people of Vanuatu with pride ," Said Commander VMF .
 Miss Janelle Chapman, the executive Director of APTC congratulate the VMF Female officer who under take the Carpentry course while giving out her speech during the graduation ceremony
"I am pleased to hear that there is an energetic VMF female officer who was also amongst the six male to undertake the carpentry course," Mrs Chapman said
The seven graduates were so thankful and appreciate all that they gone through during their studies, to help then acquire more knowledge and skills.
"We are so fortunate to learn more ideas to improve our knowledge on the skills to serve the people of Vanuatu," said Private Sera Bule Joseph, the female VMF Engineers officer.
 The Vanuatu Police Force would like to thank the Australian Government for the ongoing programs that they have in place to help the Vanuatu Police Force.
"We would like to thank the Australian Defence corporation program in supporting the VMF Officers to further their studies," Acting Commander VMF Said.
This graduation ceremony is another achievement within the VPF.