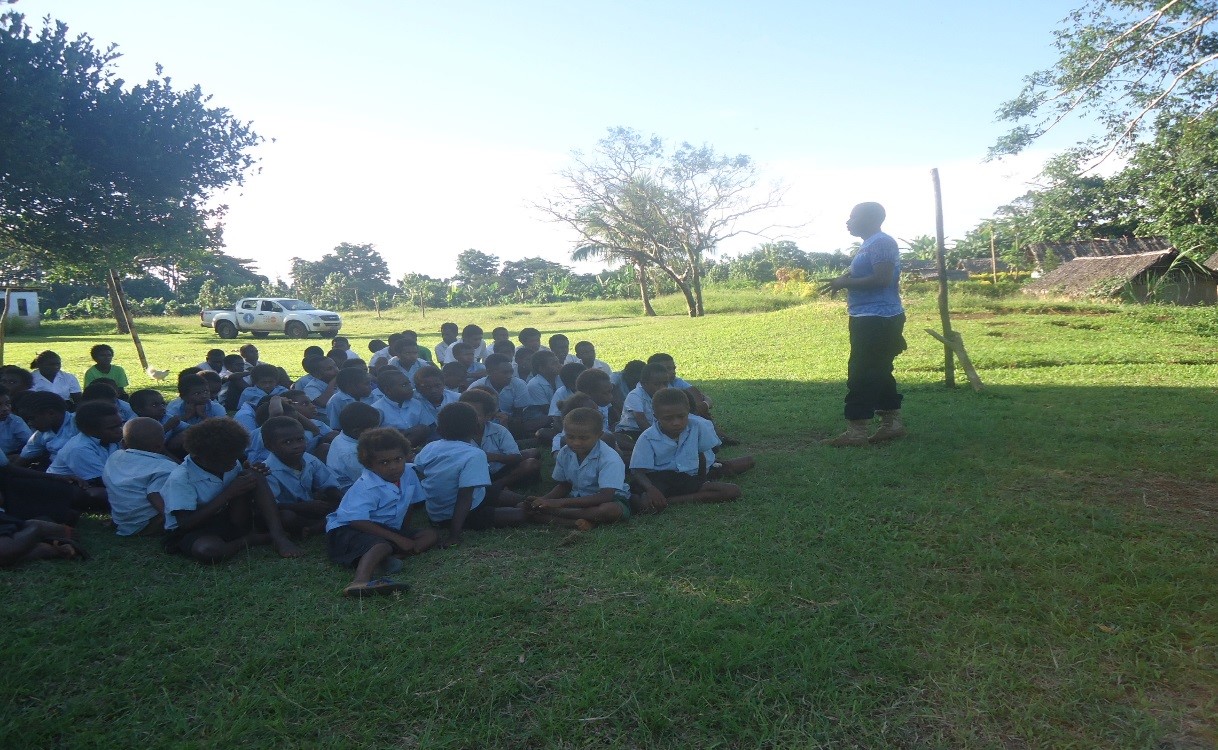 In May 2018, police rotations commenced on Santo, as part of the Authorised Persons and Registered Counsellors pilot, and will be ongoing for 12 months.
Under this initiative, four police officers will rotate throughout the pilot locations to provide support to Authorised Persons and Registered Counsellors as well as raise awareness around the work of police and receive complaints from community members with respect to criminal matters.
The Vanuatu Police Force is committed to supporting the piloting of the implementation of sections seven and eight of the Family Protection Act 2008 (FPA) relating to 'Authorised Persons' and 'Registered Counsellors'.
The police rotations were initially proposed in 2015 in discussions with Commander North, Willie Samuel, who was supportive. In June 2017, the Commissioner of the Vanuatu Police Force (VPF), Albert Nalpini endorsed the piloting of the rotations.
Authorised Persons are community members who are appointed by the Government to make temporary protection orders in situations of domestic violence. These are complex roles, placing ordinary community members at the forefront of domestic violence responses in communities, and there are potentially significant safety risks. In order to mitigate these risks, various strategies are being put in place, including piloting police rotations in three pilot sites in Santo (South Santo, Fanafo Stone-Hill and Matantas/Malau).
The purpose of the rotations is to provide back-up and authority to Authorised Persons working in communities. Having a visible and regular police presence will demonstrate to communities that Authorised Persons are linked to state justice services; will allow Authorised Persons to raise or refer issues when necessary; and increases the VPF's presence in more rural communities in Santo.
While in the communities, police officers are also expected to carry out their general duties and respond to issues raised by community members. The officers are required to abide by a code of conduct, in line with the VPF's Standard Operating Procedures.
During their rotations, officers are being required to travel to several villages and to spend one or two nights in a different village within each of the pilot locations.
The uniformed officers spend four nights out of every six weeks in each pilot community and on the fifth day of their week of rotation return to Luganville to complete paperwork, update the Police Information Management System (PIMS), and conduct follow-up for any case work conducted while in the community.
Commander North, Willie Samuel, was pleased with progress of the police rotations to date.
"The police rotations provide a valuable mechanism for the VPF to build strong relationships with communities and increases VPF's presence in remote communities," he said.
The response from community members has been overwhelming, with community members enthusiastic about the increased police presence in their communities. The Authorised Persons and Registered Counsellors pilot is a significant development for Vanuatu and the Pacific, with the implementation for the first time of the Authorised Persons and Registered Counsellors provisions of the Family Protection Act. All other provisions used by the Courts and police for the issue of Temporary Protection Orders and to investigate and prosecute cases of domestic violence have been applied since the FPA's commencement in March 2009.
The Authorised Persons and Registered Counsellors pilot has been underway for five months. To date, 20 Temporary Protection Orders were issued.
The Ministry of Justice and Community Services has overall responsibility and oversight of the pilot while the Australian Government-funded Vanuatu Australia Policing and Justice Program is responsible for leading its implementation.