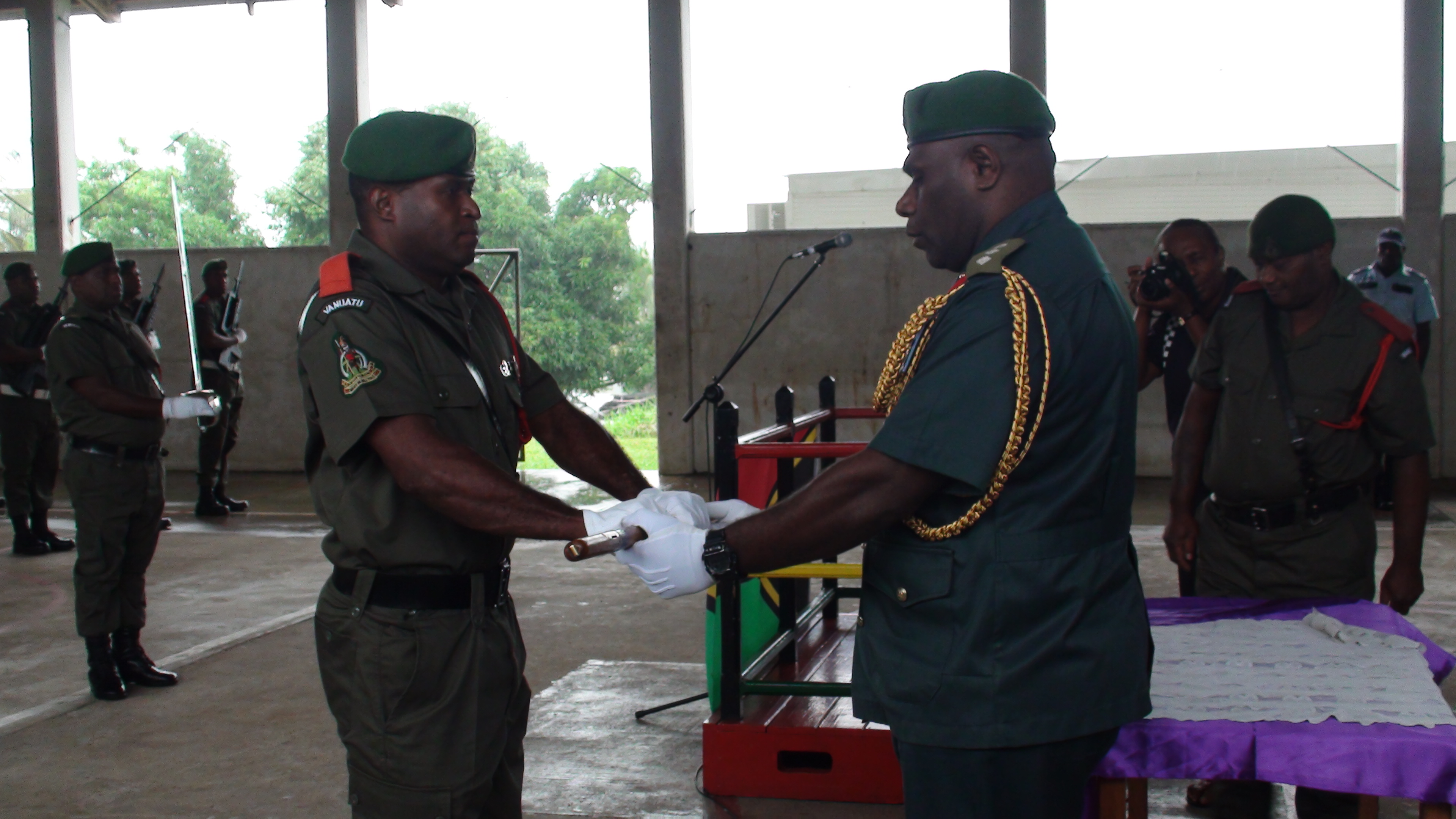 Vanuatu POlis Fos hemi gat wan newfala Force Sergeant Major( FSM).
Long Custom blong VPF , Hemi mas oltaem gat wan FSM we bae i take care long Discipline blong Force, responsible long ol ceremonial activiities, work closap wetem Commissioner blong POlis mo Commander VMF, Conductem ol meetings long 3 fala elements inside long Fos mo conductem ol seminar regardem discipline.
Ceremony blong handem ova stick blong FSM hemi tekm ples long VMF Gym tudei long Morning we i lukim former FSM we hemi Collin William tugeta wetem Commander VMF i dressem up newfala FSM we hemi Joshua Junior Bong .
Posiiton blong wan FSM hemi the only rank we hemi warrant officer class 1 inside long Fos.
Former FSM we hemi Collin William hemi serve olsem wan FSM blong 8 years mo hemi wan long taem serving officer long rank ia.
Duration blong wan FSM hemi 2 to 3 years. Long history blong VPF FSM Joshua Junior Bong hemi namba 6th FSM mo hemi the youngest FSM we hemi gat 33 years mo hemi serve inside long Fos blong 14 years .
Future intention blong hem olsem wan FSM hemi blong liaise wetem station sergeant long POlis mo long POlice Maritime wing blong gat wan standard discipline we bae i lukluk bigwan blong bringem back Discipline inside long Fos.
Long ceremony ia Police Commissioner tugeta wetem Commander VMF i witnessim mo kivim ol toktok blong tankiu
Long Former FSM mo encouragement long newfala FSM .
Mo semtaem pointemout Fudamental role blong FSM.