Details

Published: 11 May 2017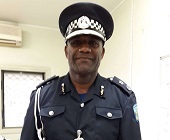 Oath and handing of official appointment of new Vanuatu Police Commissioner took place this morning at State Office.
Details

Published: 03 May 2017
National Road safety week to be held from 8th to 14h of May 2017. Police Traffic Department in Vila has set two weeks awareness on Road Safety and how to use the roads safely.
Details

Published: 02 May 2017
Vanuatu Police Maritime wing hemi tekem part long first ever Tuna Day we Vanuatu hemi celebratem long 2nd May 2017.
Details

Published: 25 April 2017
Follem ol recent speculation lo social media especially lo Yumi Toktok Stret face book group abaut post blo Mr Lennox Vuti se Police ino bin turnout follem request blo assistance blo hem, Polis hemi wantem clarifiem ol misunderstanding we istap.